Peach Pear Full Spectrum CBD Tincture by Savage CBD Essentials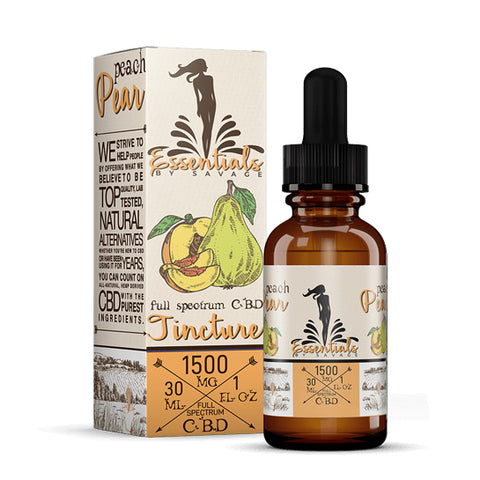 Peach Pear Full Spectrum CBD Tincture by Savage CBD Essentials
By Savage
List Price:

$109.99 - $179.99
Sale Price: $69.99 - $109.99
Peach Pear Full Spectrum CBD Tincture by Savage CBD Essentials
Within the vast sea of cannabidiol (CBD)-based product categories, the tincture has gained incredible prominence. Also known as CBD oil, these platforms are highly regarded among botanical enthusiasts for their outstanding potency. Steeped and marinated in pure cannabidiol extracts, tinctures offer quick relief for various aches and pains. And few other products can compete with the power of Savage CBD Peach Pear Full Spectrum CBD Tincture.
Taken sublingually (underneath the tongue), the Savage CBD Peach Pear Full Spectrum CBD Tincture not only represents botanical relief but also discretion. Combined with its attractive but "downlow" packaging, the Peach Pear CBD Tincture will not attract unwanted attention. Better yet, this Savage product incorporates a lush blend of naturally sourced ingredients, including peach and pear blends and a rich dose of terpenes or essential oils.
You can easily consumer Savage CBD Peach Pear Full Spectrum CBD Tinctures directly or mix with your favorite beverages or dishes.
SUGGESTED USE: Begin by taking one full dropper (approximately 30 drops or 1ML) 1-3 times per day, or as needed. Drop and hold underneath the tongue for 15-20 seconds before swallowing. Wait for three hours after the initial (first time) use to see how the strength level of CBD may affect you.
WARNING: Not to be used during pregnancy or lactation. If you have a medical condition or take pharmaceutical drugs, please consult your physician before use. Keep out of reach from children.
DO NOT VAPE.
Peach Pear Full Spectrum CBD Tincture by Savage CBD Essentials Specifications:
Available Strengths: 1000mg, 1500mg, 2000mg
Available Sizes: 30ml
Type: Full Spectrum CBD
Flavor: Peach, Pear
THC Content: 0%. THC Free
Active Cannabinoids: CBD, CBG, CBDV, CBC
Ingredients: MCT Oil, Hemp Seed Oil, Full Spectrum Cannabidiol (CBD), Essential Oils, And Terpenes.
Use: Use Orally as Tincture
Savage CBD Peach Pear Full Spectrum CBD Tincture Features:
Tincture (CBD Oil)
Several Strengths to Choose From
Full Spectrum Cannabidiol
Pesticide Free, GMO-Free, Natural Ingredients
1oz / 30ml
Lab Certified
Unlikely mixture, But really Good!!
I wasn't going to try this one but I already had lemon lime, grapefruit and Cucumber in my cart and I like this brand so I decided to try it and.... It's actually really good! I order a good quantity once every couple months and have been using 1000 or 1500 regularly for about a year and half. I sleep much better and recover from my crossfit much faster. Thank you
Authenticity is Always Guaranteed

Nug Republic is dedicated to offering our valued customers only 100% authentic products. We purchase all of our items either directly from the manufacturer or an authorized distributor. You can rest assured that everything you purchase from us is guaranteed to be genuine and will carry the full manufacturer's warranty.

Our Primary Commitment is to you

There is nothing more important to us than your satisfaction. As such, Nug Republic's dedicated team is always here to assist you in any way we can. We take customer service very seriously, and will do everything within our power to make sure you're always happy.

Only the Very Best

Nug Republic prides itself on carrying only the highest-quality products available. Everything we offer to our customers has been tried and tested by our team of experienced vapers, to ensure you will have the very best experience possible, regardless of the products you choose.