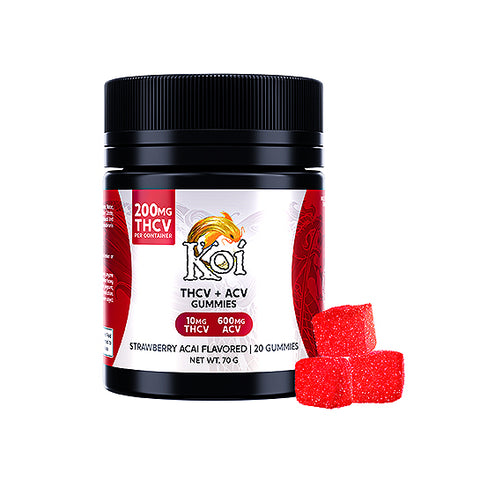 Koi THCV ACV Gummies
By Koi
List Price:

$49.99
Our Price: $44.99
Koi THCV ACV Gummies
Few hemp companies have maintained such a reputation over the years as Koi, who has been one of the most in-demand suppliers of all things hemp-derived since they first launched CBD e-liquids in a selection of tasty flavors, nearly a decade ago. They've constantly added to their enormous catalog of vapes, gummies, tinctures and more to introduce the world to the latest cannabinoid discoveries, with many of them being psychoactive yet fully compliant with federal law.
Koi's THCV ACV Gummies offer up a unique, targeted formula that combines THCV (tetrahydrocannabivarin) with ACV (apple cider vinegar), in a mouthwatering strawberry acai berry flavor. Each gummy contains 10 milligrams of the cannabinoid along with 600 milligrams of apple cider vinegar. THC-V is the mildest of the known psychoactive cannabinoids in the hemp plant, offering a very subtle uplifting effect that many describe as extremely manageable. It's also rich in valuable properties that make it fully worth incorporating into a daily routine. Each gummy is so tasty that you will have no problem looking forward to each serving, while enjoying its effects for up to 8 hours.

WARNING: Not to be used during pregnancy or lactation. If you have a medical condition or take pharmaceutical drugs, please consult your physician before use. Keep out of reach from children. 
Koi THCV ACV Gummies Specifications:
Available Strengths: 200mg
Quantity: 20ct
Type: Full Spectrum
Flavors: Strawberry Acai
THC Content: 10mg of THCV (also 600mg of Apple Cider Vinegar and 75mg of Acai) per piece
Active Cannabinoids: Tetrahydrocannabivarin (THCV)
Ingredients: Sugar, Organic Tapioca Syrup, Apple Cider Vinegar (ACV), Acai Powder, Water, Pectin, Less Than 2% Of: Natural And Artificial Flavors, Sodium Citrate, Sunflower Oil, Sodium Acid Sulfate, Citric Acid (As Preservative), Natural And Artificial Food Coloring, Hemp-Derived Delta 9 Tetrahydrocannabivarin (THCV), Folic Acid, and Vitamin B12
Use: Edible
Suggested Use: Take 1 THCV ACV Gummy Every 6 Hours or as Needed
Serving Size: 1 Gummy
Koi THCV ACV Gummies Features:
Full Spectrum
Sensational Strawberry Acai Flavor
Clean THCV
10mg/600mg Per Gummy
Nice Potency Level
Appetite Support
Grown, Harvested, Produced, and Tested In The USA
Lab Certified
These are powerful folks! Take caution on eating more than one. My advice is to work up to that. These got me real nice but I guess I just wasn't expecting them to work at all or maybe only slightly. Great relaxer and good for a long sleep afterwords!
I take these apple cider vinegar gummies called Goli and they are great! These are even better with the addition of the Thc. I'm not even sure about the "V" exactly, but I find that the feeling I get is similar to a nice bowl load of my fave strain. I've given some to friends and everyone liked them a lot. Just got another bottle and I will be back for more soon!
These are really good tasting and effective. I find that one gummy is just enough on any normal day. I take them 2-4 nights/evenings out of the week especially on my workout days. I think it helps to reduce soreness. I'm in my mid 30's if that matters. Thank you!
Good alternative to smoking
Hi, I got these because of a friends advice and I'm really enjoying them. I am having some health issues which I think are a result of frequently smoking weed. So, this seems to be a good alternative and a real good way to measure and track your thc use. So far I like the effects and have taken a max of 3 per day/night. 3 was a bit too much. 1 or 2 will do and then I plan to taper down to a half gummy. Thank you!
Tasty and stoney
These gummies are so good tasting that you're gonna wanna eat like 5 of them, but don't! and make sure that you keep them away from kids and pets! For adult like me around 150lbs one gummy is perfect! I usually take one in the evening when I want to watch a movie and relax. Fast and free shipping is a great deal here!
Authenticity is Always Guaranteed

Nug Republic is dedicated to offering our valued customers only 100% authentic products. We purchase all of our items either directly from the manufacturer or an authorized distributor. You can rest assured that everything you purchase from us is guaranteed to be genuine and will carry the full manufacturer's warranty.

Our Primary Commitment is to you

There is nothing more important to us than your satisfaction. As such, Nug Republic's dedicated team is always here to assist you in any way we can. We take customer service very seriously, and will do everything within our power to make sure you're always happy.

Only the Very Best

Nug Republic prides itself on carrying only the highest-quality products available. Everything we offer to our customers has been tried and tested by our team of experienced vapers, to ensure you will have the very best experience possible, regardless of the products you choose.