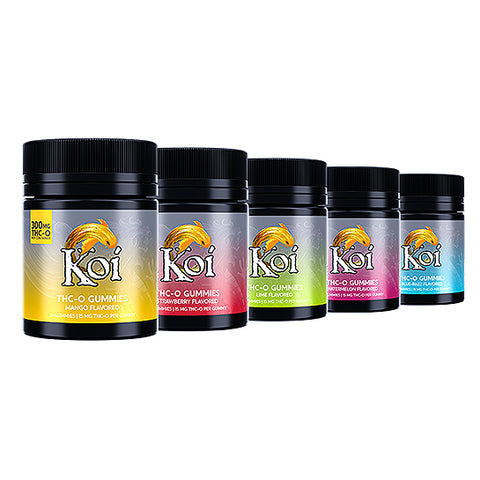 Koi THC-O Gummies
By Koi
List Price:

$39.99
Our Price: $34.99
Koi THC-O Gummies
No long-time hemp enthusiast is a stranger to Koi's exquisite catalog of top-shelf hemp products, featuring an array of in-demand cannabinoids that offer nothing but the most desirable effects that can come from the hemp plant. The brand first hit it big with their flavored CBD e-liquids several years ago, and since, has consistently incorporated new cannabinoids into their inventory to offer all kinds of distinctive ways to reap the valuable properties that these compounds have to offer. Many of their products are psychoactive yet fully compliant with law, and as always, you can count on nothing but clean, fresh and carefully sourced ingredients, paired with hemp extracts derived from organic plant material and third-party-tested to ensure nothing but exceptional quality and purity.
Koi's THC-O Gummies are mouthwatering morsels available in a variety of juicy fruit flavors, derived naturally and 100% vegan thanks to the use of pectin instead of gelatin. Every THC-O gummy contains 15 milligrams of this cannabinoid in an ultra-pure distillate form, which's plenty to get you high for up to 8 hours. THC-O-Acetate is a cannabinoid that's 3x as potently intoxicating as delta 9 THC, and also promotes feelings of nice euphoria and head-to-toe tension release.

WARNING: Not to be used during pregnancy or lactation. If you have a medical condition or take pharmaceutical drugs, please consult your physician before use. Keep out of reach from children. 
Koi THC-O Gummies Specifications:
Available Strengths: 300mg
Quantity: 20ct
Type: Full Spectrum
Flavors: Blue-Razz, Strawberry, Watermelon, Lime, Mango
THC Content: 15mg of THC-O per piece
Active Cannabinoids: THC-O-Acetate (THC-O)
Ingredients: Sugar, Corn Syrup, Pectin, Sunflower Oil, Flavoring, Sodium Citrate, Sodium Acid Sulfate, Citric Acid, Natural and Artificial food coloring, hemp-derived THC-O, and plant-derived terpenes
Use: Edible
Suggested Use: Take 1 THC-O Gummy Every 6 Hours or as Needed
Serving Size: 1 Gummy
Koi THC-O Gummies Features:
Full Spectrum
An Assortment of Delicious Flavors
Clean THC-O
15mg Per Gummy
Strong Potency Level
Grown, Harvested, Produced, and Tested In The USA
Lab Certified
I ordered watermelon and they taste great like candy. They are strong, but in a good way. I took 1 gummy and didn't feel anything for about 20-30mins so I cut one in half and 10 minutes later I was really lifted!
Wow!
What did I eat last night? oh yeah, it was a couple of these gummies for dessert! Let me tell you that these are a tad strong lol. I stopped smoking weed about a year ago and got these just to try. Wow!! That got me baked perfectly to do nothing except Netflix and chill. Thanks folks!
Blue Razz is yummy
And a bit potent if I'm honest! It had been a while since I've tried any edibles and now I remember. I'm glad I only ate one because it did the trick and lasted all night long. I did wake up rather refreshed the next morning though and that was interesting. Good experience!
Authenticity is Always Guaranteed

Nug Republic is dedicated to offering our valued customers only 100% authentic products. We purchase all of our items either directly from the manufacturer or an authorized distributor. You can rest assured that everything you purchase from us is guaranteed to be genuine and will carry the full manufacturer's warranty.

Our Primary Commitment is to you

There is nothing more important to us than your satisfaction. As such, Nug Republic's dedicated team is always here to assist you in any way we can. We take customer service very seriously, and will do everything within our power to make sure you're always happy.

Only the Very Best

Nug Republic prides itself on carrying only the highest-quality products available. Everything we offer to our customers has been tried and tested by our team of experienced vapers, to ensure you will have the very best experience possible, regardless of the products you choose.