Koi Naturals CBD Oil Tincture - Spearmint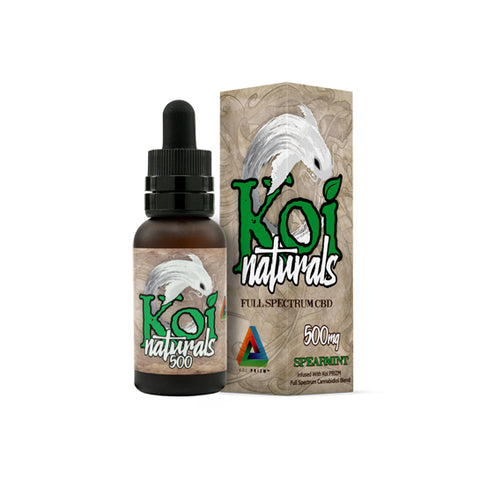 Koi Naturals CBD Oil Tincture - Spearmint
By Koi
List Price:

$39.99 - $99.99
Our Price: $29.99 - $69.99
Koi Naturals CBD Oil Tincture - Spearmint 

(250mg, 500mg, 1000mg)
Recognized as the industry's premier CBD brand and manufacturer, Koi has relayed an incredible level of quality and transparency throughout its entire collection of products. It made its debut onto the market before the CBD boom and has been providing consumers with the wonderful benefits of CBD ever since. As an early adopter, the Koi brand developed a list of superior products that includes its proprietary CBD oil blend, Koi PRIZM. By combining both the popular PRIZM blend and a refreshing spearmint flavor, it was able to release the Koi Naturals Spearmint CBD Oil Tincture.
With CBD becoming even more of a mainstream product, it was necessary for Koi to infuse its proprietary Koi PRIZM blend with 100% natural spearmint flavoring. It provides the crisp and clean taste that spearmint offers, sharing both the authentic and sweet feel in your mouth that you've come to know and love. Coupled with the deliciously refreshing flavor of spearmint comes the benefit of cannabinoids and 13 distinct terpenes to deliver the full effect. This 30ML bottle of Koi Naturals Spearmint CBD Oil includes CBD, CBDV, and CBG active cannabinoids, providing the maximum amount of support and benefits available. Additionally, you'll have a choice between three different strengths to suit your personal liking, from 250mg to 500mg to 1000mg. Add in the assurance of an all-natural oil that contains no artificial flavors, is 100% THC Free, Hexane Free, Pesticide Free, and delivers an outstanding level of transparency by providing full documentation and a lab certification.
WARNING: Not to be used during pregnancy or lactation. If you have a medical condition or take pharmaceutical drugs, please consult your physician before use. Keep out of reach of children.
DO NOT VAPE.
Koi Naturals Spearmint CBD Tincture Specifications:
Available Strengths: 250mg, 500mg, 1000mg
Available Sizes: 30ML
Type: Full Spectrum
Flavor: Koi Naturals Spearmint
THC Content: 100% THC Free
Active Cannabinoids: CBD, CBDV, CBG
Ingredients: Koi PRIZM Full-Spectrum CBD Oil, Coconut Oil, Natural Spearmint Flavor Extract
Use: Use Orally as Tincture
SUGGESTED USE: Begin by taking one full dropper (approximately 30 drops or 1ML) 1-3 times per day, or as needed. Drop and hold underneath the tongue for 15-20 seconds before swallowing. Wait three hours after the initial (first time) use to see how the strength level of CBD may affect you.
WARNING: Not to be used during pregnancy or lactation. If you have a medical condition or take pharmaceutical drugs, please consult your physician before use. Keep out of reach from children. DO NOT VAPE.
Koi Naturals Spearmint CBD Oil Tincture Features:
Utilizes Koi's PRIZM Proprietary CBD Oil Blend
Made With 100% All-Natural Ingredients
Includes CBD, CBDV, and CBG Active Cannabinoids
100% THC Free, Hexane Free, and Pesticide Free
Three Available Strengths - 250mg, 500mg, 1000mg
Convenient Dropper Bottle For Easy Delivery
Designed To Be Used Orally or Added To Food & Drinks
USA-Made and Organically-Sourced CBD
Lab Certified
So, I use this as directed under the tongue and also added to my fruit shake. Both ways work well! I deal with high anxiety and this is a great way to start my day.
Relieves anxiety!
I really like taking this as a daily supplement for anxiety. I have a few bottles with different strengths and for most days, I feel that a dropper full twice a day is good with the 250mg strength. I use the 1000mg bottle if I;'m having a rough week, stressed or really need to unwind. Try it if you have anxiety or lots of stress in your life.
Minty Fresh
This tincture has a really distinct spearmint flavor that I have not gotten from other brands. Usually I try to rinse the taste out as quickly as possible but this one is much better! I have been using tinctures for about a year to ease the pain of an old sports injury and this is by far the best one I have tried.
Authenticity is Always Guaranteed

Nug Republic is dedicated to offering our valued customers only 100% authentic products. We purchase all of our items either directly from the manufacturer or an authorized distributor. You can rest assured that everything you purchase from us is guaranteed to be genuine and will carry the full manufacturer's warranty.

Our Primary Commitment is to you

There is nothing more important to us than your satisfaction. As such, Nug Republic's dedicated team is always here to assist you in any way we can. We take customer service very seriously, and will do everything within our power to make sure you're always happy.

Only the Very Best

Nug Republic prides itself on carrying only the highest-quality products available. Everything we offer to our customers has been tried and tested by our team of experienced vapers, to ensure you will have the very best experience possible, regardless of the products you choose.