Koi Naturals CBD Oil Tincture - Natural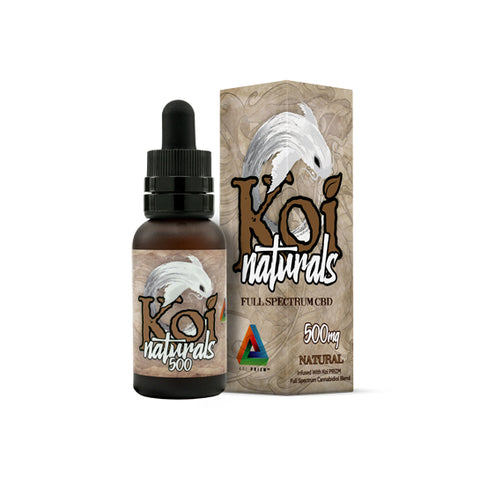 Koi Naturals CBD Oil Tincture - Natural
By Koi
List Price:

$39.99 - $99.99
Our Price: $29.99 - $69.99
Koi Naturals CBD Oil Tincture - Natural

(250mg, 500mg, 1000mg)
For several years now, when consumers think of CBD the Koi brand immediately comes to mind. This happens because of the incredible impact it's had on the CBD industry, from manufacturing outstanding products to creating brand awareness with consumers, they've achieved success at every level. More than just being a brand that's a topic of discussion, its products gain as much spotlight, such as its Koi Naturals Natural CBD Oil Tincture. It uses Koi PRIZM, a proprietary CBD oil blend without any additional flavor extracts. This one's all about CBD and its natural taste.
While we would love to hype this flavor up claiming it's the best of the Koi collection, the truth is that Koi Naturals Natural CBD Oil is in its rawest form and naturally flavored by the CBD itself. With this flavor, you'll have to enjoy it for its simplicity, its swell CBD aroma, and earthy taste that is none other than CBD in its rawest, purest form. With this Natural CBD Oil Tincture by Koi Naturals, you'll gain the benefit of several cannabinoids and 13 different terpenes, alongside many active cannabinoids, including CBD, CBDV, and CBG for both maximum support and the full benefits. The 30ML bottle comes in three available strengths to choose from, including 250mg, 500mg, and 1000mg. Not only is Koi a very transparent brand by providing lab results with its lab certification but it also ensures the quality of its product by containing no artificial flavors, by being 100% THC Free, Hexane Free, Pesticide Free, and 100% all-natural.
WARNING: Not to be used during pregnancy or lactation. If you have a medical condition or take pharmaceutical drugs, please consult your physician before use. Keep out of reach of children.
DO NOT VAPE.
Koi Naturals Natural CBD Tincture Specifications:
Available Strengths: 250mg, 500mg, 1000mg
Available Sizes: 30ML
Type: Full Spectrum
Flavor: Koi Naturals Natural
THC Content: 100% THC Free
Active Cannabinoids: CBD, CBDV, CBG
Ingredients: Koi PRIZM Full-Spectrum CBD Oil and Coconut Oil
Use: Use Orally as Tincture
SUGGESTED USE: Begin by taking one full dropper (approximately 30 drops or 1ML) 1-3 times per day, or as needed. Drop and hold underneath the tongue for 15-20 seconds before swallowing. Wait three hours after the initial (first time) use to see how the strength level of CBD may affect you.
WARNING: Not to be used during pregnancy or lactation. If you have a medical condition or take pharmaceutical drugs, please consult your physician before use. Keep out of reach from children. DO NOT VAPE.
Koi Naturals Natural CBD Oil Tincture Features:
Utilizes Koi's PRIZM Proprietary CBD Oil Blend
Made With 100% All-Natural Ingredients
Includes CBD, CBDV, and CBG Active Cannabinoids
100% THC Free, Hexane Free, and Pesticide Free
Three Available Strengths - 250mg, 500mg, 1000mg
Convenient Dropper Bottle For Easy Delivery
Designed To Be Used Orally or Added To Food & Drinks
USA-Made and Organically-Sourced CBD
Lab Certified
Great stuff! I'm so happy that I found this brand. I've tried their gummies and HHC too. Really good! I like the Natural taste of herbs so I do this one straight under the tongue. 500mg works for me, the 250mg is too weak or have to take a lot of it. The orange flavor tincture is awesome for smoothies!
Makes a difference
I have been taking 1 dropper each evening of the 500mg strength for about 3 weeks now and I have noticed a positive change in my sleep quality, recovery time after sports. I also have certain high anxiety days where I will take up to 2 dropper fulls and it really helps! I like the natural taste of the hemp flower too, it is rather soothing.
Authenticity is Always Guaranteed

Nug Republic is dedicated to offering our valued customers only 100% authentic products. We purchase all of our items either directly from the manufacturer or an authorized distributor. You can rest assured that everything you purchase from us is guaranteed to be genuine and will carry the full manufacturer's warranty.

Our Primary Commitment is to you

There is nothing more important to us than your satisfaction. As such, Nug Republic's dedicated team is always here to assist you in any way we can. We take customer service very seriously, and will do everything within our power to make sure you're always happy.

Only the Very Best

Nug Republic prides itself on carrying only the highest-quality products available. Everything we offer to our customers has been tried and tested by our team of experienced vapers, to ensure you will have the very best experience possible, regardless of the products you choose.