Koi Naturals CBD Oil Tincture - Lemon-Lime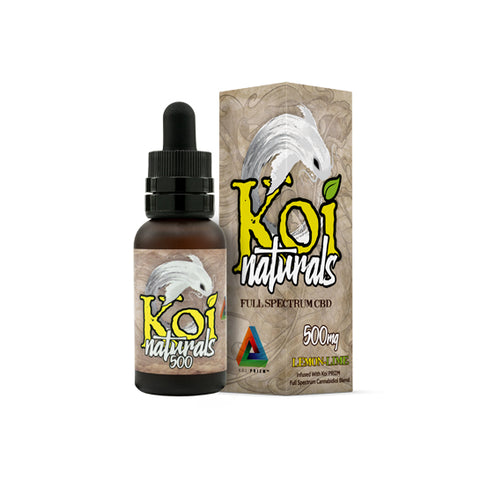 Koi Naturals CBD Oil Tincture - Lemon-Lime
By Koi
List Price:

$39.99 - $99.99
Our Price: $29.99 - $69.99
Koi Naturals CBD Oil Tincture - Lemon-Lime 

(250mg, 500mg, 1000mg)
Positioning itself at the forefront of the CBD boom, the Koi manufacturing brand has seen the industry start from the bottom and evolve into a thriving market designed to share the wonderful benefits of cannabinoids. As the market has progressed, Koi has as well by developing some of the best full-spectrum CBD blends. One of its most popular blends is the Koi Naturals Lemon-Lime CBD Oil Tincture, which combines the fascinating taste of lemon-lime with Koi PRIZM, the brands proprietary CBD oil blend.
Crafting its highly popular proprietary blend with a perfectly paired 100% natural Lemon-Lime flavoring has allowed the brand to offer a brilliantly executed concoction of citrus flavors and natural effects. The tangy, yet acidic burst of flavor is just the right balance in taste, leaving your taste receptors just as pleased as the calming effect that comes coupled with it. Its naturally extracted lemon-lime flavor is certainly the citrus burst in flavor that you desire, but the benefits of the cannabinoids and 13 distinct terpenes are what you need. There are three active cannabinoids packed into this 30ML bottle of Koi Naturals Lemon-Lime CBD Oil, which includes CBD, CBDV, and CBG, all of which will deliver the maximum amount of support and benefits. Choose between three strengths to fit your personal preference, including 250mg, 500mg, and 1000mg, while enjoying the peace of mind in knowing that it's all-natural, contains no artificial flavors, is 100% THC Free, Hexane Free, Pesticide Free, and comes lab certified with full documentation and results.
WARNING: Not to be used during pregnancy or lactation. If you have a medical condition or take pharmaceutical drugs, please consult your physician before use. Keep out of reach of children.
DO NOT VAPE.
Koi Naturals Lemon-Lime CBD Tincture Specifications:
Available Strengths: 250mg, 500mg, 1000mg
Available Sizes: 30ML
Type: Full Spectrum
Flavor: Koi Naturals Lemon-Lime
THC Content: 100% THC Free
Active Cannabinoids: CBD, CBDV, CBG
Ingredients: Koi PRIZM Full-Spectrum CBD Oil, Coconut Oil, Natural Lemon and Lime Extracts
Use: Use Orally as Tincture
SUGGESTED USE: Begin by taking one full dropper (approximately 30 drops or 1ML) 1-3 times per day, or as needed. Drop and hold underneath the tongue for 15-20 seconds before swallowing. Wait three hours after the initial (first time) use to see how the strength level of CBD may affect you.
WARNING: Not to be used during pregnancy or lactation. If you have a medical condition or take pharmaceutical drugs, please consult your physician before use. Keep out of reach from children. DO NOT VAPE.
Koi Naturals Lemon-Lime CBD Oil Tincture Features:
Utilizes Koi's PRIZM Proprietary CBD Oil Blend
Made With 100% All-Natural Ingredients
Includes CBD, CBDV, and CBG Active Cannabinoids
100% THC Free, Hexane Free, and Pesticide Free
Three Available Strengths - 250mg, 500mg, 1000mg
Convenient Dropper Bottle For Easy Delivery
Designed To Be Used Orally or Added To Food & Drinks
USA-Made and Organically-Sourced CBD
Lab Certified
I didn't really think that this CBD stuff would work and I kept associating it with marijuana and didn't want to be involved with that. It was after reading several articles about tinctures that I decided to give it a try and I am quite impressed. I am now on my second bottle, this one is 500mg and taking a dropper full daily. It really does help with anxiety and is a sleep aid. Thank you!
Iced Arnold Palmer drink
Had to share! So, if you're like me and drink iced tea all day long especially in the summer, then add a dropper to your tall glass of tea and there you go! great tasting kinda like an Arnold Palmer. I got the 250mg and I use a 2-3 whole droppers through out the day. Not everyday though, just when I'm feeling a little stressed. Start slow so you can see what's right for you. Good luck!
Authenticity is Always Guaranteed

Nug Republic is dedicated to offering our valued customers only 100% authentic products. We purchase all of our items either directly from the manufacturer or an authorized distributor. You can rest assured that everything you purchase from us is guaranteed to be genuine and will carry the full manufacturer's warranty.

Our Primary Commitment is to you

There is nothing more important to us than your satisfaction. As such, Nug Republic's dedicated team is always here to assist you in any way we can. We take customer service very seriously, and will do everything within our power to make sure you're always happy.

Only the Very Best

Nug Republic prides itself on carrying only the highest-quality products available. Everything we offer to our customers has been tried and tested by our team of experienced vapers, to ensure you will have the very best experience possible, regardless of the products you choose.