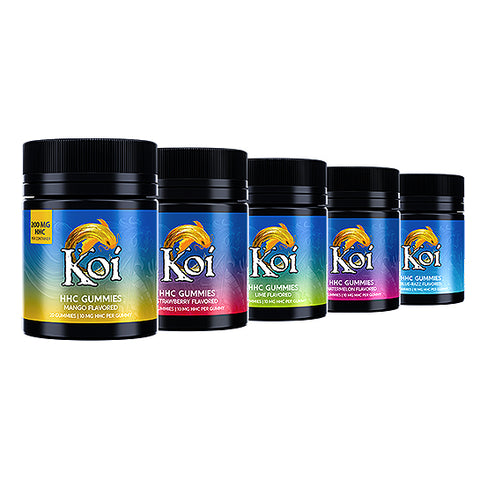 Koi HHC Gummies
By Koi
List Price:

$39.99
Our Price: $34.99
Koi HHC Gummies
When it comes to cannabinoids, few companies deliver them in such a user-friendly, trustworthy and satisfying way as Koi, one of the original hemp brands to legitimize the industry as a whole. Since day one, Koi has worked tirelessly to prove themselves as a brand that prioritizes safety, customer satisfaction and quality, using clean ingredients, vegan formulas and hemp extracts derived from organic farms, and analyzed through thorough third-party testing protocol.
Koi has also made a point to always add to their already massive catalog, to introduce us to new cannabinoids that naturally occur in the hemp plant. Their HHC Gummies highlight hexahydrocannabinol (HHC), a hydrogenized analog of delta 9 THC which carries surprising similarities, including a euphoric yet soothing high. Each gummy contains 10 milligrams of HHC, which's plenty to enjoy gratifying psychoactive effects for up to 8 hours. Meanwhile, choose from a lush array of mouthwatering naturally derived fruity flavors while savoring a vegan formula. Just one gummy is all that you need to feel absolutely uplifted and at total ease for the majority of your day – or night.

WARNING: Not to be used during pregnancy or lactation. If you have a medical condition or take pharmaceutical drugs, please consult your physician before use. Keep out of reach from children. 
Koi HHC Gummies Specifications:
Available Strengths: 200mg
Quantity: 20ct
Type: Full Spectrum
Flavors: Blue-Razz, Strawberry, Watermelon, Lime, Mango
THC Content: 10mg of HHC per piece
Active Cannabinoids: HHC
Ingredients: Sugar, Corn Syrup, Pectin, Sunflower Oil, Flavoring, Sodium Citrate, Sodium Acid Sulfate, Citric Acid, Natural and Artificial food coloring, hemp-derived HHC, and plant-derived terpenes
Use: Edible
Suggested Use: Take 1 HHC Gummy Every 6 Hours or as Needed
Serving Size: 1 Gummy
Koi HHC Gummies Features:
Full Spectrum
An Assortment of Delicious Flavors
Clean HHC
10mg Per Gummy
Strong Potency Level
Grown, Harvested, Produced, and Tested In The USA
Lab Certified
Strong but good! Take only one half to start out with, as I got super lifted the first time I took one. Actually I ate one and it tasted yummy so I grabbed another on and bit into it, then I thought "oh I can't eat another whole one"!!. So, I pretty much ate one and a half. The effects lasted a long time. I slept like a baby that night. Now I only take half or sometimes one whole. Try it but be careful!
I didn't really know what to expect either. But if you're wondering, Yes these are stoney! I took two and I was good to go for hours it seemed. No after effects once you wake up from your nappy nap!
Good quality
Watermelon and lime are the ones I've tried and they taste good typical gummy. The lift that I get from these is great and feels clean not foggy the next day. I have taken too much so use discretion. Depending on your size/weight don't take more than one. After using these for quite a while now, I am comfortable with 2 gummies, but not more than that.
Chill, but...
After trying CBD gummies and taking them quite daily for some time now, I decided to give these a try. I educated myself a bit on the effects and how this derivative is made. Now, I don't smoke weed often only once in a while and thought it best to just eat a half of one gummy to test. Glad I did that! I really felt the effects about 30-45 mins afterward. It was chill but, enough for me to understand what a full gummy (or two even) would feel like. My advice would be to take it slow. Don't take more than 1 gummy at first. like I said, 1/2 was a good test before deciding to take more.
Authenticity is Always Guaranteed

Nug Republic is dedicated to offering our valued customers only 100% authentic products. We purchase all of our items either directly from the manufacturer or an authorized distributor. You can rest assured that everything you purchase from us is guaranteed to be genuine and will carry the full manufacturer's warranty.

Our Primary Commitment is to you

There is nothing more important to us than your satisfaction. As such, Nug Republic's dedicated team is always here to assist you in any way we can. We take customer service very seriously, and will do everything within our power to make sure you're always happy.

Only the Very Best

Nug Republic prides itself on carrying only the highest-quality products available. Everything we offer to our customers has been tried and tested by our team of experienced vapers, to ensure you will have the very best experience possible, regardless of the products you choose.