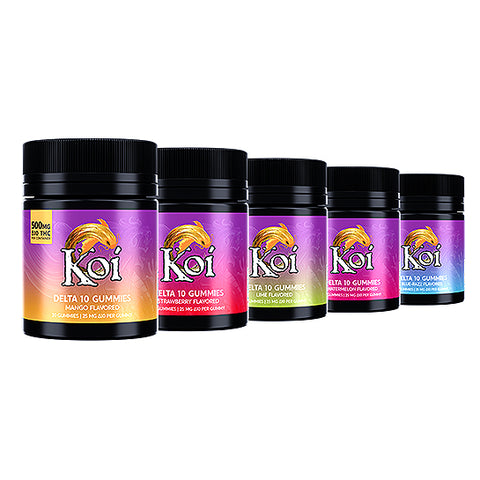 Koi Delta 10 THC Gummies
By Koi
List Price:

$39.99
Our Price: $34.99
Koi Delta 10 THC Gummies
Koi is one of the most sought-after brands on the hemp market for all things cannabinoid-related, and a name that hemp enthusiasts trust completely. Since day one, they've been committed to providing nothing but lab-tested, top-quality formulas that highlight the cannabinoids we know and love – CBD, delta 8, delta 9, and more. Koi's use of clean and fresh ingredients, coupled with organically grown hemp and vegan formulas has proven that they will go above and beyond to meet hemp enthusiasts' needs. So, with their catalog constantly growing, introducing us to entirely new cannabinoids that capture what we want out of hemp, it's no wonder that this brand has made it work with delta 10 THC.
Koi Delta 10 THC Gummies are a perfect option for anyone who is seeking out a slightly mild high that's uplifting and focus-enhancing. Delta 10 THC is a cannabinoid that naturally occurs in the hemp plant's flowering buds, being less intoxicating than delta 9 THC. Its properties are known for being "sativa-like", making these excellent for the daytime when you're still active. The vegan, gelatin-free formula comes in an amazing choice of fruity flavors, all naturally derived, in order to satisfy before that high takes effect and lasts for up to 8 hours at a time.

WARNING: Not to be used during pregnancy or lactation. If you have a medical condition or take pharmaceutical drugs, please consult your physician before use. Keep out of reach from children. 
Koi Delta 10 THC Gummies Specifications:
Available Strengths: 500mg
Quantity: 20ct
Type: Full Spectrum
Flavors: Blue-Razz, Strawberry, Watermelon, Lime, Mango
THC Content: 25mg of Delta-10 per piece
Active Cannabinoids: Delta 10 THC
Ingredients: Sugar, Corn Syrup, Pectin, Sunflower Oil, Flavoring, Sodium Citrate, Sodium Acid Sulfate, Citric Acid, Natural and Artificial food coloring, hemp-derived delta 10 THC, and plant-derived terpenes
Use: Edible
Suggested Use: Take 1 Delta 10 Gummy Every 6 Hours or as Needed
Serving Size: 1 Gummy
Koi Delta 10 THC Gummies Features:
Full Spectrum
An Assortment of Delicious Flavors
Clean Delta-10 THC
25mg Per Gummy
Strong Potency Level
Grown, Harvested, Produced, and Tested In The USA
Lab Certified
Taste great while providing the relief I need
Delicious and fast acting
Authenticity is Always Guaranteed

Nug Republic is dedicated to offering our valued customers only 100% authentic products. We purchase all of our items either directly from the manufacturer or an authorized distributor. You can rest assured that everything you purchase from us is guaranteed to be genuine and will carry the full manufacturer's warranty.

Our Primary Commitment is to you

There is nothing more important to us than your satisfaction. As such, Nug Republic's dedicated team is always here to assist you in any way we can. We take customer service very seriously, and will do everything within our power to make sure you're always happy.

Only the Very Best

Nug Republic prides itself on carrying only the highest-quality products available. Everything we offer to our customers has been tried and tested by our team of experienced vapers, to ensure you will have the very best experience possible, regardless of the products you choose.