Koi Complete Full Spectrum CBD Gummies | Nighttime Rest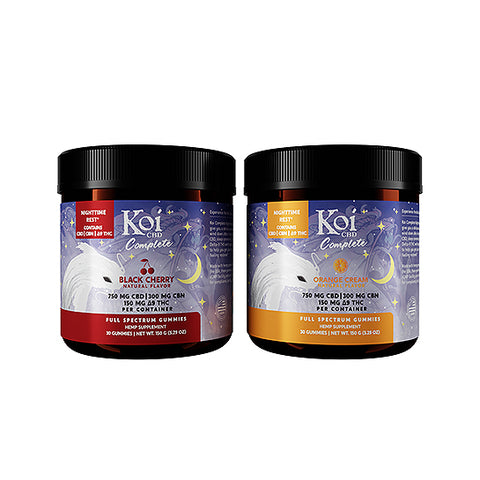 Koi Complete Full Spectrum CBD Gummies | Nighttime Rest
By Koi
List Price:

$59.99
Our Price: $54.99
Koi Complete Full Spectrum CBD Gummies - Nighttime Rest
Koi has maintained a reputation as one of the top providers of all things hemp since they launched their innovative CBD e-liquids almost a decade ago, and they continue to expand their catalog to offer all kinds of must-try hemp products, including those that highlight the legal, psychoactive cannabinoids that have become so popular in recent years. Their formulations remain some of the highest in terms of quality, featuring fully lab-tested hemp extracts and clean, fresh and carefully sourced ingredients.
Koi Complete Full Spectrum CBD Gummies in Nighttime Rest are an impressive addition to their catalog, using the latest in hemp research to craft a gummy featuring the ideal balance of a few cannabinoids that work together harmoniously to put you at ease at nighttime. Each gummy contains 25 milligrams of CBD, 10 milligrams of CBN, and 5 milligrams of delta 9 THC, for a mild psychoactive high. CBN works synergistically with delta 9 THC to offer uniquely positive effects at bedtime, resulting in a product that's worth taking nightly. Plus, you can choose between two "dreamy" flavors – Black Cherry and Orange Cream, which gives you all the more reason to crave one every night before going to bed.
WARNING: Not to be used during pregnancy or lactation. If you have a medical condition or take pharmaceutical drugs, please consult your physician before use. Keep out of reach from children. 
Koi Complete Full Spectrum CBD Gummies - Nighttime Rest Specifications:
Available Strengths: 1200mg (300mg CBN + 150mg Delta-9 THC + 750mg CBD)
Quantity: 30ct
Type: Full Spectrum
Flavors: Orange Cream / Black Cherry
THC & CBD Content: 25mg CBD, 10mg CBN, and 5mg Delta-9 THC per piece
Active Cannabinoids: Cannabinol (CBN), Delta 9 THC, and Cannabidiol (CBD)
Ingredients: Full spectrum hemp extract, hemp-derived CBN, hem-derived delta-9 THC, tapioca syrup, sugar, water, natural fruit puree, corn starch, agar, pectin, MCT oil, citric acid, and sunflower lecithin
Use: Edible
Suggested Use: Take 1 Gummy Before Bedtime
Serving Size: 1 Gummy
Koi Complete Full Spectrum CBD Gummies - Nighttime Rest Features:
Full Spectrum CBD
Two Amazing Flavors
A Trifecta of Hemp-Derived Cannabinoids
25mg/10mg/5mg Per Gummy
Ideal Potency Level for a Goodnight's Sleep
Grown, Harvested, Produced, and Tested In The USA
Lab Certified
Authenticity is Always Guaranteed

Nug Republic is dedicated to offering our valued customers only 100% authentic products. We purchase all of our items either directly from the manufacturer or an authorized distributor. You can rest assured that everything you purchase from us is guaranteed to be genuine and will carry the full manufacturer's warranty.

Our Primary Commitment is to you

There is nothing more important to us than your satisfaction. As such, Nug Republic's dedicated team is always here to assist you in any way we can. We take customer service very seriously, and will do everything within our power to make sure you're always happy.

Only the Very Best

Nug Republic prides itself on carrying only the highest-quality products available. Everything we offer to our customers has been tried and tested by our team of experienced vapers, to ensure you will have the very best experience possible, regardless of the products you choose.