Koi CBD Topical Lotion (Hand & Body) - Lavender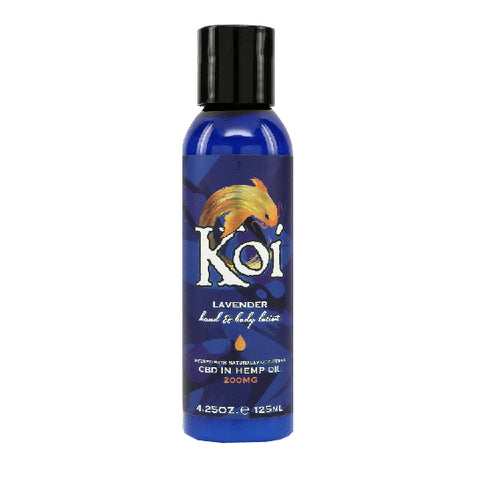 Koi CBD Topical Lotion (Hand & Body) - Lavender
By Koi
List Price:

$44.99
Our Price: $42.99
Koi Lavender CBD Hand & Body Lotion 
If there's one thing we've learned about the CBD industry is that Koi is the premier brand to deliver a wide selection of the best products. It extends its reach into all facets of the market, from tinctures to edibles. Though its portfolio of products is rather impressive, its Koi CBD Lotion is one of its most favored out of the entire collection.
Millions will agree that body lotion offers several benefits if you're using it on a regular basis. From rehydrating dried skin to its soothing smell to the relaxed feeling it provides, lotion is the superior choice when it comes to your mind and body. Koi CBD Lotion offers all of that and more, integrating 200mg of CBD, combined with organic aloe, organic coconut, and lavender extracts. The result is Koi's CBD Lotion that delivers skin-healing benefits of lotion and the powerful restoration of CBD. The 4.25oz bottle may contain a fascinating blend with organic aloe, organic coconut and lavender extracts, but its quality offers just as many perks to look forward to. Koi CBD Lotion is 100% THC Free, Hexane Free, Pesticides Free, and it comes Lab Certified with results, revealing the companies transparency. Being lab tested for its purity, consistency and safety, Koi delivers a 100% natural, 99% pure CBD that's manufactured in an ISO certified lab. Each bottle of Koi CBD Lotion uses only the highest quality of ingredients available and the product can be traced from its beginnings to the finished product.
WARNING: Not to be used during pregnancy or lactation. If you have a medical condition or take pharmaceutical drugs, please consult your physician before use. Keep out of reach from children. 
Koi CBD Lotion Specifications:
Available Strengths: 200mg
Size: 4.25oz. / 125ML
Type: Topical Lotion
THC Content: 100% THC Free
Active Cannabinoids: CBD
Ingredients: Organic aloe leaf juice, organic coconut oil, glycerin, emulsifying wax NF, stearic acid, organic jojoba seed oil, witch hazel water, organic alcohol extract, vitamin e oil, organic neem seed oil, rosemary leaf extract, phenoxyethanol, rose distillate, lavender essential oil, organic white willow bark, xanthan gum, tetrasodium EDTA, naturally occurring CBD in hemp oil.
Use: Topical
Suggested Use: Use topically as needed
WARNING: Not to be used during pregnancy or lactation. If you have a medical condition or take pharmaceutical drugs, please consult your physician before use. Keep out of reach from children. DO NOT VAPE OR CONSUME.
Koi CBD Lotion Features:
Hand & Body Lotion Infused With CBD
Lavender Scent
200mg CBD Strength
100% THC Free, Hexane Free, and Pesticide Free
4.25oz
Grown, Harvested, Produced, and Tested In The USA
Lab Certified
I'm half way through my bottle and got a reminder to review. So this is what I think; I initially got this for my mother and she fell in love with it. She suffers from arthritis and overall joint pain and swears that this lotion relieves the pain a great deal. She liked it so much that I bought another bottle for her and one for me. I don't suffer from pain like her but the lotion has awesome ingredients and smells wonderful. I will keep ordering!!
Lotion with a little extra
Basically this is just like any other hand/body lotion. It's creamy smooth with wonderful smells of flowers and oils. The extra comes with the cbd infused into the lotion which has been known to help with pain, inflammation and even acne. The only downside it's a little pricey.
Authenticity is Always Guaranteed

Nug Republic is dedicated to offering our valued customers only 100% authentic products. We purchase all of our items either directly from the manufacturer or an authorized distributor. You can rest assured that everything you purchase from us is guaranteed to be genuine and will carry the full manufacturer's warranty.

Our Primary Commitment is to you

There is nothing more important to us than your satisfaction. As such, Nug Republic's dedicated team is always here to assist you in any way we can. We take customer service very seriously, and will do everything within our power to make sure you're always happy.

Only the Very Best

Nug Republic prides itself on carrying only the highest-quality products available. Everything we offer to our customers has been tried and tested by our team of experienced vapers, to ensure you will have the very best experience possible, regardless of the products you choose.