Koi CBD Hemp Extract Balm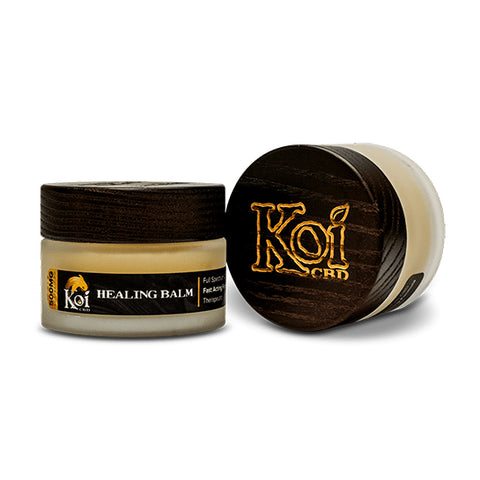 Koi CBD Hemp Extract Balm
By Koi
List Price:

$59.99 - $84.99
Our Price: $54.99 - $79.99
Koi CBD Healing Balm
While others are still playing catchup, Koi CBD is enjoying the fruits of its labor. The Koi brand started its beginning early on and quickly became one of the industry's most recognized names. They've showered the market with a hefty collection of products, spanning from oils to topicals, and everything in between. One of its most enriching products that will leave your skin feeling smooth and restored in the Koi CBD Hemp Extract Balm.
While many feel that Koi contains a magic sauce with its proprietary blend, it is no more than the powerful benefits of a broad-spectrum CBD that offers maximum potency in both 500 and 1000mg strengths and dozens of other natural oils, which combine and make Koi PRIZM, the brand's proprietary blend. The blend contains all of the necessary cannabinoids and non-detectable levels of THC (<0.001%).
Formed with yellow beeswax and a variety of helpful oils, including grapeseed oil, ginger root oil, sweet basil oil, aloe vera and more, you'll feel every bit of this perfectly blended balm with each use. The Koi CBD Hemp Extract Balm immediately warms on contact and offers a soothing sensation that will keep you relaxed and completely refreshed. The oils provide a fascinating scent as well, making the experience even better. The Koi Balm is available in two different sizes depending on the strength, including the 0.5 oz and 1.7 oz, making it perfect at home, while traveling, or anywhere you go.
If you experience inflammation, pain, or simply want to restore different areas of your body, the Koi CBD Hemp Extract Balm is the perfect companion to have by your side.
WARNING: Not to be used during pregnancy or lactation. If you have a medical condition or take pharmaceutical drugs, please consult your physician before use. Keep out of reach from children.
DO NOT VAPE.
Koi CBD Hemp Extract Balm Specifications:
Available Strengths: 500mg / 1000mg
Size: 0.5 oz / 1.7 oz.
Type: Topical Balm
THC Content: <0.001%
Active Cannabinoids: CBD, CBDA, CBDV
Ingredients: Koi PRIZM™ Broad-spectrum Hemp Extract, Grapeseed Oil, Yellow Beeswax, Organic Coconut Oil, Peppermint Oil, Eucalyptus Leaf Oil, Rosemary Leaf Oil, Sweet Basil Oil, Spearmint Oil, Lavender Flower Oil, Ginger Root Oil, Ravensara Oil, Cinnamon Leaf Oil, Lemongrass Oil, Helichrysum oil, Roman Chamomile Flower Oil and Aloe Vera.
Use: Topical
Suggested Use: Massage where needed.
WARNING: Not to be used during pregnancy or lactation. If you have a medical condition or take pharmaceutical drugs, please consult your physician before use. Keep out of reach from children. DO NOT VAPE OR CONSUME.
Koi CBD Hemp Extract Balm Features:
Broad-Spectrum CBD
Includes Beneficial Natural Oils
Warms on Contact
Available In Two Strengths
First, thanks for the discount code guys! I was dealing with a bad spout of lower back pain, actually I still am, but this stuff really helps. My pain isn't every day but it sparks up all of a sudden. So, I keep this little jar with me almost always. I apply it at work throughout the day and it is so relieving. I've tried some sports creams and they just seem to numb for a bit. This help with inflammation, so I'm told. I'll be back for more soon! Thank you!!
Relief!
This balm really does help with inflammation. I have arthritis in my knees and knuckles. I use this throughout the day as needed. Luckily a little goes a long way because it is a bit pricey. Worth every penny!!
Heals and soothes
This balm is great stuff! Using it on my achy shoulder and wow I am amazed. I had read that CBD, CBDA, CBDV in synthesis is really powerful for inflammation and this has proven to be true. This balm will remain a must for after workouts or anytime i'm feeling sore.
Authenticity is Always Guaranteed

Nug Republic is dedicated to offering our valued customers only 100% authentic products. We purchase all of our items either directly from the manufacturer or an authorized distributor. You can rest assured that everything you purchase from us is guaranteed to be genuine and will carry the full manufacturer's warranty.

Our Primary Commitment is to you

There is nothing more important to us than your satisfaction. As such, Nug Republic's dedicated team is always here to assist you in any way we can. We take customer service very seriously, and will do everything within our power to make sure you're always happy.

Only the Very Best

Nug Republic prides itself on carrying only the highest-quality products available. Everything we offer to our customers has been tried and tested by our team of experienced vapers, to ensure you will have the very best experience possible, regardless of the products you choose.