Koi CBD Soft Chews For Dogs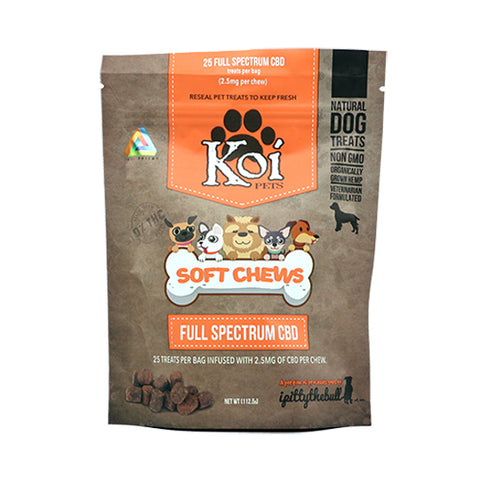 Koi CBD Soft Chews For Dogs
By Koi
Price: $29.99
Koi CBD Dog Soft Chews - Full Spectrum CBD
Expanding its reach in all facets of the market, Koi delivers a complete collection of the finest cannabidiol available. What's wildly impressive about Koi, aside from its quick rise to success since 2015, is that it offers a variety of methods to use its popular full-spectrum CBD, and there's even a product that's designed specifically for your pet. With Koi CBD Dog Chews, you'll be able to provide the same incredible benefits that you receive. It's simply a soft chew that's delicious, nutritious, and restores the balance for your pet to give them the calming comfort they once knew as a puppy.
Utilizing an organically-grown hemp to boost your pet's health is the perfect way to give them the same wonderful effects you've come to know and love from a full-spectrum CBD. It's grown under the warming sun of Colorado and contains only the highest quality of ingredients, while eliminating any trace of THC, Hexane, and Pesticides. This Veterinarian formulated Koi CBD Pet Soft Chews comes in an appealing package that includes 25 delicious dog treats that your pet will absolutely love. Each treat has a full spectrum of synergistic compounds, such as chicken and natural bacon flavor, while its true benefits are gained from the 2.5mg of all-natural CBD. If you want to restore your pets health and give them the same benefits that you've grown to love from such a fascinating naturally grown product, treat them with Koi CBD Pet Chews.
WARNING: Not to be used during pregnancy or lactation. If you have a medical condition or take pharmaceutical drugs, please consult your physician before use. Keep out of reach from children. 
Koi CBD Pet Soft Chews Specifications:
Available Strengths: 2.5mg
Quantity: 25
Type: Full-Spectrum
Flavor: Chicken, Natural Bacon
THC Content: 100% THC Free
Active Cannabinoids: CBD
Ingredients: Water, dried brewer's yeast, glycerin, antioxidant gum arabic, sodium alginate, chicken, natural bacon flavor, flaxseed oil, microcrystalline cellulose, organic sweet potato powder, sunflower lecithin, citrus pectin, vitamin E, sodium propionate, calcium sulfate dehydrate, dextrin, polysorbate, citric acid, natural mixed tocopherols (natural preservative).
Use: Edible
Suggested Use: Small (Under 25 LBS): 1–2 treats per day, Medium (25 – 75 LBS): 2–3 treats per day, Large (70+ LBS): 3–4 treats per day
Serving Size: 1 Soft Chew
WARNING: Not to be used during pregnancy or lactation. If you have a medical condition or take pharmaceutical drugs, please consult your physician before use. Keep out of reach from children.
Koi CBD Dog & Cat Soft Chews Features:
Full-Spectrum CBD-Infused
Veterinarian Formulated
All-Natural
100% THC Free, Hexane Free, and Pesticide Free
2.5mg Available Strength
Non-GMO
Designed For Dogs & Cats
Grown, Harvested, Produced, and Tested In The USA
Lab Certified
Well my dog like them so that's a start. He can be quite picky and doesn't eat everything you put in front of him. This is our 3rd bag and these treats have had a positive effect on his behavior. It takes a bit for the cbd to make a difference, so don't expect that the first one you give your dog, he's going to get super mellow.
Calming!
My little yorkie has a problem of barking at every such sound that it was making me crazy. Anytime someone would even walk by on the sidewalk outside she would yap. I needed to do something and so pleased that I tried these cbd treats. I have been giving her 1-3 per day and she is noticeably less yappy! Can't believe it and it's natural! Shipping to UK is a bit slow but not the stores fault I know. Thank you kindly! I'll keep shopping and I'm excited try the other options for pets.
Authenticity is Always Guaranteed

Nug Republic is dedicated to offering our valued customers only 100% authentic products. We purchase all of our items either directly from the manufacturer or an authorized distributor. You can rest assured that everything you purchase from us is guaranteed to be genuine and will carry the full manufacturer's warranty.

Our Primary Commitment is to you

There is nothing more important to us than your satisfaction. As such, Nug Republic's dedicated team is always here to assist you in any way we can. We take customer service very seriously, and will do everything within our power to make sure you're always happy.

Only the Very Best

Nug Republic prides itself on carrying only the highest-quality products available. Everything we offer to our customers has been tried and tested by our team of experienced vapers, to ensure you will have the very best experience possible, regardless of the products you choose.