Cucumber Mint Full Spectrum CBD Tincture by Savage CBD Essentials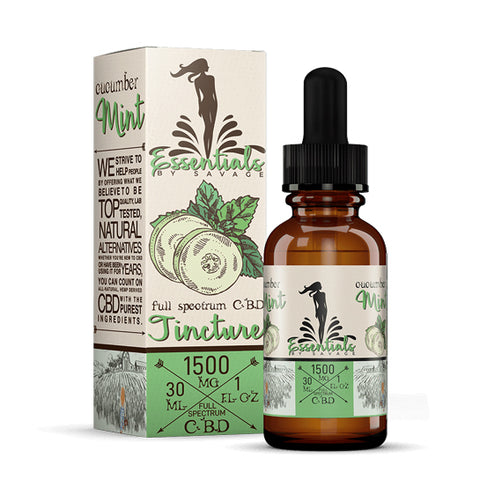 Cucumber Mint Full Spectrum CBD Tincture by Savage CBD Essentials
By Savage
List Price:

$109.99 - $179.99
Sale Price: $69.99 - $109.99
Cucumber Mint Full Spectrum CBD Tincture by Savage CBD Essentials
Among the most popular cannabidiol (CBD)-based products to hit the mainstream is the tincture. Otherwise known as CBD oil, these potent botanical extracts are marinated in pure cannabidiol, along with several other cannabinoids (or organic compounds) and terpenes (essential oils). And within this burgeoning subcategory, few can hold a candle to the Savage CBD Cucumber Mint Full Spectrum CBD Tincture.
Offering a refreshing blast of ice-cool cucumbers with a splash of mint, the Savage CBD Cucumber Mint Full Spectrum CBD Tincture is an ideal platform to unwind a busy day at the office. Similarly, you can whittle away a lazy afternoon as you watch the sun set with friends and family. Taken sublingually (underneath the tongue), the Cucumber Mint also carries a remarkably discreet profile.
SUGGESTED USE: Begin by taking one full dropper (approximately 30 drops or 1ML) 1-3 times per day, or as needed. Drop and hold underneath the tongue for 15-20 seconds before swallowing. Wait for three hours after the initial (first time) use to see how the strength level of CBD may affect you.
WARNING: Not to be used during pregnancy or lactation. If you have a medical condition or take pharmaceutical drugs, please consult your physician before use. Keep out of reach from children.
DO NOT VAPE.
Cucumber Mint Full Spectrum CBD Tincture by Savage CBD Essentials Specifications:
Available Strengths: 1000mg, 1500mg, 2000mg
Available Sizes: 30ml
Type: Full Spectrum CBD
Flavor: Refreshing Cucumber, Cool Mint
THC Content: 0%. THC Free
Active Cannabinoids: CBD, CBG, CBDV, CBC
Ingredients: MCT Oil, Hemp Seed Oil, Full Spectrum Cannabidiol (CBD), Essential Oils, And Terpenes.
Use: Use Orally as Tincture
Savage CBD Cucumber Mint Full Spectrum CBD Tincture Features:
Tincture (CBD Oil)
Various CBD Strengths to Choose From
Full Spectrum Cannabidiol
Pesticide Free, GMO-Free, Natural Ingredients
1oz / 30ml
Lab Certified
Authenticity is Always Guaranteed

Nug Republic is dedicated to offering our valued customers only 100% authentic products. We purchase all of our items either directly from the manufacturer or an authorized distributor. You can rest assured that everything you purchase from us is guaranteed to be genuine and will carry the full manufacturer's warranty.

Our Primary Commitment is to you

There is nothing more important to us than your satisfaction. As such, Nug Republic's dedicated team is always here to assist you in any way we can. We take customer service very seriously, and will do everything within our power to make sure you're always happy.

Only the Very Best

Nug Republic prides itself on carrying only the highest-quality products available. Everything we offer to our customers has been tried and tested by our team of experienced vapers, to ensure you will have the very best experience possible, regardless of the products you choose.