cbdMD Delta 9 Gummies in Cherry (5-ct)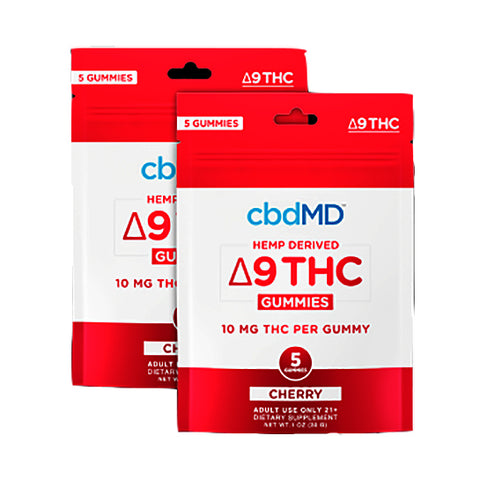 cbdMD Delta 9 Gummies in Cherry (5-ct)
By CbdMD
List Price:

$19.99
Our Price: $14.99
cbdMD Delta 9 Gummies in Cherry (5-ct)
cbdMD long ago established themselves as one of the most customer-conscious hemp brands in the industry, with a generous selection of hemp-infused products aimed at addressing our most specific daily needs. CBD has remained their specialty, although they've continued to add new and exciting, fully legal cannabinoids to their catalog with the same emphasis on third-party-testing, seed-to-sale transparency and clean formulations.
cbdMD Delta 9 Gummies in Cherry come in a pack of 5, with each gummy containing the legally required limit of 0.3% delta 9 THC by dry weight. At the same time, each gummy contains a generous 10 milligrams of delta 9, which can give you a meaningfully uplifting and euphoric high for up to 8 hours after absorption. The gummies offer highly bioavailable, fully organic delta-9 distillate that has a high purity rating for the finest results possible.
These gummies also happen to be vegan, introducing zero animal derivatives into your body, including gelatin. Meanwhile, each morsel bursts with juicy, fresh, and naturally derived cherry flavor that gives you yet another reason to want to work them into your daily routine. Just one gummy a day could provide those magnificent results that you're looking for through delta 9 THC.
WARNING: Not to be used during pregnancy or lactation. If you have a medical condition or take pharmaceutical drugs, please consult your physician before use. Keep out of reach from children.
cbdMD Delta 9 Gummies in Cherry (5-ct) Specifications:
Available Strengths: 300mg (50mg THC / 250mg CBD) total per pack
Quantity: 5-ct
Type: Full Spectrum
Flavors: Cherry
THC & CBD Content: 10 mg of Delta 9 THC and 50 mg of CBD Per Serving
Active Cannabinoids: Delta 9 THC and Cannabidiol (CBD)
Ingredients: Full Spectrum Hemp Extract (Aerial Parts) [Naturally occurring phytocannabinoids] Corn Syrup, Water, Granulated Sugar, Natural Flavors, Pectin, Citric Acid, Natural Color, and Trisodium Citrate
Use: Edible
Suggested Use: Take 1 Delta 9 Gummy Daily
Serving Size: 1 Gummy
cbdMD Delta 9 Gummies in Cherry (10-ct) Features:
Full Spectrum
Vibrant Cherry Flavor
2 Amazing Cannabinoids
10mg/50mg Per Gummy
High Potency
Grown, Harvested, Produced, and Tested In The USA
Vegan and Gluten-Free
Farm Bill Compliant and Legal in Most States
Lab Certified
Very Tastey
These CBD Gummies are the best I've used. Great flavor and last all day.
Delicious Taste!
I love CBD gummies and this Delta 9 happens to be one of my favorites. Delicious taste and fact acting last all day, depending on the person.
Satifised Customer
Sweet cherry flavor, good taste, and reasonable price.
Thanks!
Cheery relief
A nice euphoric high with a good combo of CBD & Delta.
Authenticity is Always Guaranteed

Nug Republic is dedicated to offering our valued customers only 100% authentic products. We purchase all of our items either directly from the manufacturer or an authorized distributor. You can rest assured that everything you purchase from us is guaranteed to be genuine and will carry the full manufacturer's warranty.

Our Primary Commitment is to you

There is nothing more important to us than your satisfaction. As such, Nug Republic's dedicated team is always here to assist you in any way we can. We take customer service very seriously, and will do everything within our power to make sure you're always happy.

Only the Very Best

Nug Republic prides itself on carrying only the highest-quality products available. Everything we offer to our customers has been tried and tested by our team of experienced vapers, to ensure you will have the very best experience possible, regardless of the products you choose.