cbdMD Delta 9 Gummies in Blue Raspberry (5-ct)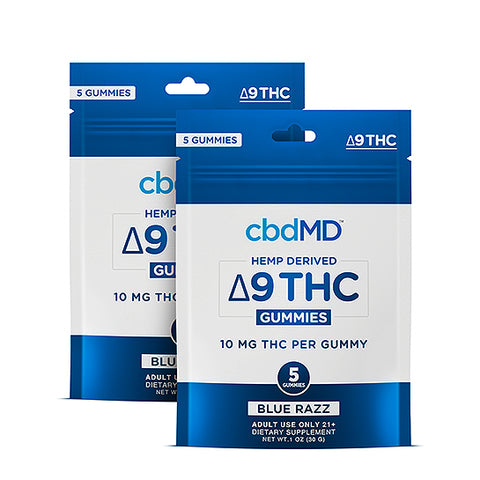 cbdMD Delta 9 Gummies in Blue Raspberry (5-ct)
By CbdMD
List Price:

$19.99
Our Price: $14.99
cbdMD Delta 9 Gummies in Blue Raspberry (5-ct)
cbdMD is recognized as a leader in the hemp industry, and has been, since launching their line of CBD products years ago. They've maintained their trustworthy reputation thanks to their incredible transparency, clean ingredients and use of meticulous third-party testing protocol to assure customers that their products are pure, authentic and free of unwanted contaminants. While they've mainly focused on CBD over the years, they've incorporated other cannabinoids into their product selection as well, now offering something for every hemp enthusiast under the sun through a series of product types, strengths, formulations, and more.
cbdMD Delta 9 Gummies arrive in a 5 pack, with every gummy containing the legally required amount of THC, which is 0.3% by dry weight. This, however, allows every single gummy to boast 10 milligrams of delta 9 THC, which can certainly give you the high you're looking for, complete with euphoric bliss and a sense of ease from head to toe. The gummies contain a delta 9 distillate which is highly bioavailable for maximum absorption, and as a result, maximum effectiveness. At the same time, enjoy a naturally fresh cherry flavor and completely vegan ingredients with each serving.
WARNING: Not to be used during pregnancy or lactation. If you have a medical condition or take pharmaceutical drugs, please consult your physician before use. Keep out of reach from children.
cbdMD Delta 9 Gummies in Blue Raspberry (10-ct) Specifications:
Available Strengths: 300mg (50mg THC / 250mg CBD) total per pack
Quantity: 10-ct (2x 5-cts)
Type: Full Spectrum
Flavors: Blue Raspberry
THC & CBD Content: 10 mg of Delta 9 THC and 50 mg of CBD Per Serving
Active Cannabinoids: Delta 9 THC and Cannabidiol (CBD)
Ingredients: Full Spectrum Hemp Extract (Aerial Parts) [Naturally occurring phytocannabinoids] Corn Syrup, Water, Granulated Sugar, Natural Flavors, Pectin, Citric Acid, Natural Color, and Trisodium Citrate
Use: Edible
Suggested Use: Take 1 Delta 9 Gummy Daily
Serving Size: 1 Gummy
cbdMD Delta 9 Gummies in Blue Raspberry (10-ct) Features:
Full Spectrum
Vibrant Blue RaspberryFlavor
2 Amazing Cannabinoids
10mg/50mg Per Gummy
High Potency
Grown, Harvested, Produced, and Tested In The USA
Vegan and Gluten-Free
Farm Bill Compliant and Legal in Most States
Lab Certified
Chewy, Tasty & Effective
Ya works good, tastes fruity, no side effects.
Good & Tasty
Super tasty, a nice amount of blue raspbeery flavor, fast acting.
I prefer to chew a couple a day to easy my stress.
Good tatse
A sweet blue raspberry flavor, the delta 9 works well.
The best on the market
Delta 9 Gummies are delicious, powerful, smooth, pain-relieving, and good for sleep. These are my favorite gummies online.
Tasty Blue Raz Gummies
10MG Blue Raspberry CBD gummies with THC really pack a nice punch for only 10mg. Super tasty gummies, that I basically nibble on thru out the day lol
Authenticity is Always Guaranteed

Nug Republic is dedicated to offering our valued customers only 100% authentic products. We purchase all of our items either directly from the manufacturer or an authorized distributor. You can rest assured that everything you purchase from us is guaranteed to be genuine and will carry the full manufacturer's warranty.

Our Primary Commitment is to you

There is nothing more important to us than your satisfaction. As such, Nug Republic's dedicated team is always here to assist you in any way we can. We take customer service very seriously, and will do everything within our power to make sure you're always happy.

Only the Very Best

Nug Republic prides itself on carrying only the highest-quality products available. Everything we offer to our customers has been tried and tested by our team of experienced vapers, to ensure you will have the very best experience possible, regardless of the products you choose.