CbdMD CBD Revive Moisturing Lotion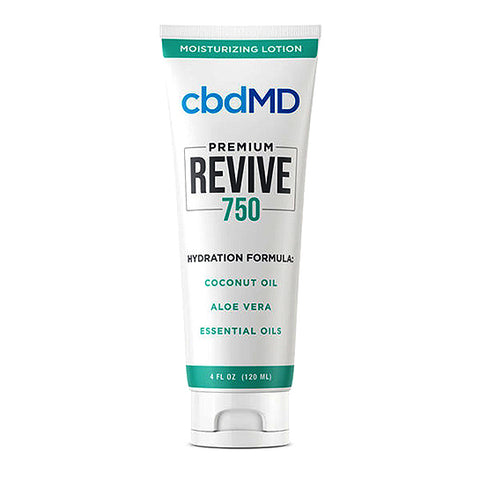 CbdMD CBD Revive Moisturing Lotion
By CbdMD
Price: $39.99
CbdMD CBD Revive Moisturizing Lotion
Are you searching for a way to incorporate CBD topicals into your routine? If so, look no further than CbdMD CBD Revive Moisturizing Lotion. CbdMD is one of the most trusted hemp companies in the business, as they have developed a reputation for offering high-quality, clean, and effective formulas in all kinds of delivery methods. Their Revive Moisturizing Lotion does double-duty, infusing the muscles and joints with ample amounts of hemp while moisturizing and soothing the skin thoroughly so that it feels more soft, supple, and hydrated.
CbdMD CBD Revive Moisturizing Lotion is infused with a variety of popular cannabinoids including: CBD (cannabidiol), CBG (cannabigerol), and CBN (cannabinol). All of these cannabinoids work together to bind to cannabinoid receptors in the skin, muscles, and joints for regulatory purposes, and have potential to work with the body's inflammatory response. This formula is infused with aloe vera, coconut oil, and essential oils that may restore the skin itself while supplying it with nutrients derived from plants.  
Having a convenient squeeze bottle makes it easy to apply the product without making a mess. 
WARNING: Not to be used during pregnancy or lactation. If you have a medical condition or take pharmaceutical drugs, please consult your physician before use. Keep out of reach from children.
CbdMD CBD Revive Moisturizing Lotion Specifications:
Available Strengths: 750mg
Size: 4oz / 120ML
Type: Topical Lotion
THC Content: 0% (THC-Free)
Active Cannabinoids: CBD
Ingredients: Water (Aqua), Butyrospermum Parkii (Shea) Butter, Cetearyl Alcohol, Cetearyl Glucoside, Organic Tapioca Starch, Organic Aloe Barbadensis (Aloe Vera) Leaf Juice, Caprylic Capric Triglyceride, Helianthus Annuus (Sunflower) Seed Oil, Organic Argania Spinosa (Argan) Kernel Oil, Organic Cocos Nucifera (Coconut) Oil, Hemp Extract (Cannabidiol, Cannabigerol, Cannabinol), Glycerin, Organic Calendula Extract, Vaccinium Macrocarpon (Cranberry) Seed Oil, Punica Granatum (Pomegranate) Seed Oil, Piperita (Peppermint) Leaf Oil, Rosmarinus Ocinalis (Rosemary) Leaf Oil, Citrus Aurantium Dulcis (Orange) Fruit Peel Oil, Pelargonium Graveolens (Geranium) Oil, Abies Sibiricia (Fir) Needle Oil, Rosa Canina (Rose Hips) Seed Oil, Organic Rosmarinus Ocinalis (Rosemary) Leaf Extract, Xanthan Gum, Glyceryl Caprylate, and Caprylhydroxamic Acid.
Use: Topical
Suggested Use: Can be used several times a day as needed.
CbdMD CBD Revive Moisturizing Lotion Features:
Lotion Infused with Broad Spectrum CBD
Easy Application
Highly Beneficial Ingredients
100% THC Free
High-quality manufacturing process for wholesome hemp properties
Third-party, ISO-certified lab tested to ensure purity and potency.
Grown, Harvested, Produced, and Tested in the USA
Authenticity is Always Guaranteed

Nug Republic is dedicated to offering our valued customers only 100% authentic products. We purchase all of our items either directly from the manufacturer or an authorized distributor. You can rest assured that everything you purchase from us is guaranteed to be genuine and will carry the full manufacturer's warranty.

Our Primary Commitment is to you

There is nothing more important to us than your satisfaction. As such, Nug Republic's dedicated team is always here to assist you in any way we can. We take customer service very seriously, and will do everything within our power to make sure you're always happy.

Only the Very Best

Nug Republic prides itself on carrying only the highest-quality products available. Everything we offer to our customers has been tried and tested by our team of experienced vapers, to ensure you will have the very best experience possible, regardless of the products you choose.